by
Harry Boardman
with
Nick Dennerley, Roger Fisken and Bob Morton
Cock Robin Music CRM180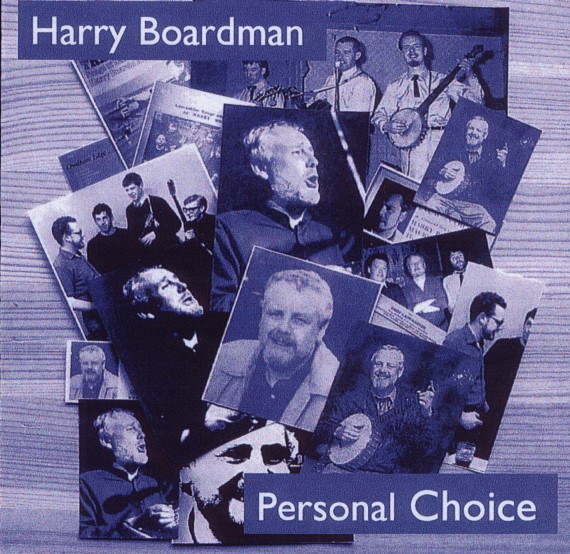 This CD is a remastered issue of Harry's final recording "Personal Selection" made in 1985
Track listing:
The Girls of Lancashire / What ails thee my son Robin / Tom Paget / The Bitch Fox
(medley) The Plodder Seam - Early In The Morning - Chimneys Tall
The Garland / Where's ta Bin / The Flying Cloud / Bonny Light Horseman / The Grand Conversation on Napoleon
The Streets of London (Jack of all trades) / The Whaler's Lament / Ninian South / Owdham White Hare / I'll tell thi Dick
The Manchester Canal / Fortune Turns the Wheel
Bonus Track - Harry live in 1981 at The Railway Folk Club Reddish nr Stockport telling the story of his dad going down to the Black Horse accompanied by Harry's mum! (Thanks to Mike Kiernan for this recording)
The original recording has undergone digital restoration bringing the pitch up to the correct level and the balance and separation of the performers have been adjusted to give a more lively dynamic to the performance
Copies are available from me for £8.00 inclusive of p+p
Please make cheques payable to "Cock Robin Music" and send to:
Mark Dowding
28 New Acres
Newburgh
Wigan
Lancashire
WN8 7TU
For further enquiries email me - mark@markdowding.co.uk
The Original Cassette
The original recording was in cassette format and was recorded by Alistair Miller at Leader Sound. Harry's other LPs had been deleted by this time and he wanted something to sell at his gigs. This set of songs represented Harry's repertoire of the time.
This was the last commercial recording he made before his death in 1987 although it had no distribution through the shops and is something of a rarity.