Mark's Music 'CV'
1972 - Started playing guitar at the age of 11 because "my sister is having one for Christmas so I want one!"
Shut myself away in my bedroom for four years learning to play properly.
Found that groups like The Spinners, The Fivepenny Piece and The Houghton Weavers appealed to my musical ear so started learning their songs.
Performed these songs in school concerts for a couple of years.
Saw the Oldham Tinkers on the TV and bought one of their LPs. I also found I liked Mike Harding – for the funny stuff at first then listened to his serious stuff - much more lasting - I'm still singing them today.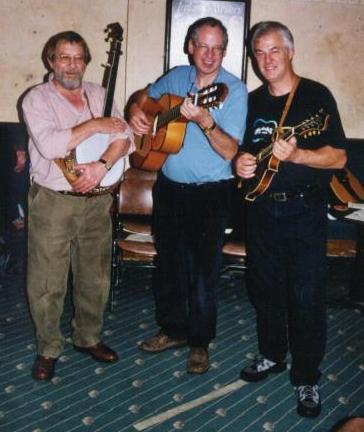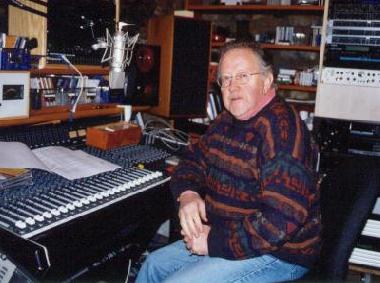 The Oldham Tinkers and Mike Harding in 2001
The Tinkers now have Dave Howard playing with them instead of Larry Kearns who has retired and Mike Harding presents his show on Radio 2 from the studio called "The Cowshed" at his home in the Yorkshire dales
Click the names below for links to their respective websites:
Found that one of my mates was going to run a folk club in Ormskirk. Learned a few more songs by The Oldham Tinkers and Bernard Wrigley and went along to the first night. Did a couple of songs and found that people liked them.
Met somebody from The Dicconson Arms folk club so went along there the following night and met Derek Gifford.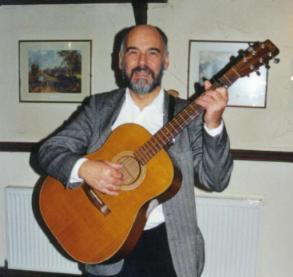 Derek Gifford
See more about Derek by clicking HERE
After going to the Dicconson Arms for six weeks, found myself on the resident's list.
Realised that the folk club network was actually quite big due to a publication entitled "The North West Federation of Folk Clubs' Newsletter" and started to go further afield to foreign parts like Southport, Billinge and Wigan. Became a regular singer at The George and Dragon in Billinge on a Sunday night.
Started to find songs by a bloke called Harry Boardman that had some bearing on the history lessons that I'd had a couple of years ago and had bored me rigid.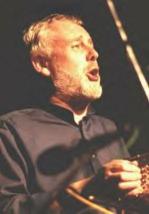 Photo by Roger Liptrot
Harry Boardman
Bought some of his recordings and learned a few of the songs I heard. Realised how crap history lessons were when all you needed were a few records by enthusiastic folk singers
Did a recording session at Red Rose Radio in Preston for their folk programme – The recording was never broadcast because they lost the tape with all the songs on it!
In 1981 I lived in Salford and started going to Harry Boardman's folk club in Manchester. After going for six weeks I was invited to be a resident. Also went on a regular basis to the Star folk club in Salford and after six weeks was invited to be a resident. Found other folk clubs in the area and did a few bookings to swell the coffers of the student income.
Did a bit of singing on Hospital Radio at Wythenshaw for a friend who did a folk show on a Thursday night.
Moved to Ipswich in 1984 and began going to the Ipswich folk club. After six weeks, I was told that I was considered a resident at the club. Became known as "The Man who never sang the same song twice" – mainly because I never sang the same song twice unless someone asked me.
Met Pete Jennings who presented the Folk Programme on Radio Orwell in Ipswich and did a couple of live programmes with him over the next few months.
Due to the lack of transport, I relied on other people to take me to folk clubs in the area if they were going and managed to get to Bury St Edmonds, Colchester and a great singers' pub – The Oyster at Butley. Met Dick Miles from Bury St Edmonds who gave me a booking at his club and Steve Dickinson who made me a Wheatstone concertina. Well he would - he owns the company!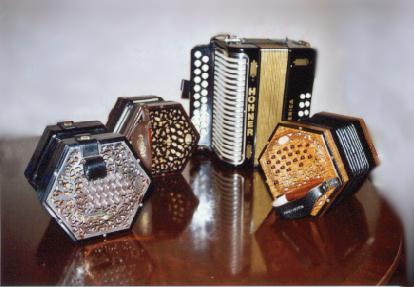 Steve Dickinson made the Wheatstone 40 Key G/D Anglo (the one on the right)
The one on the left is a Lachenal English Treble Concertina and next to it is a Lachenal 20 key C/G Anglo. The Melodeon is a Hohner Erica G/D
More about Wheatstone concertinas at www.wheatstone.co.uk
In 1985, I moved to Peterborough and met Pete Shaw who pointed me in several directions and so I was able to go somewhere every night of the week to either a club or a session. There was no "official" folk club as such in Peterborough, so in order to get a residency, I was forced to start my own club at the behest of a benevolent landlord and so Farcet Folk was born at the Black Swan in Farcet on the edge of the fens.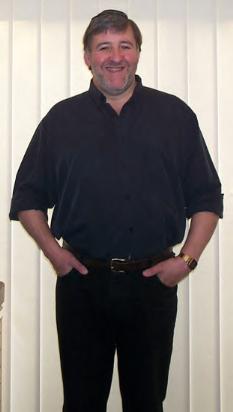 Pete Shaw
My one-time Landlord, Drinking Partner, Fellow Musician, Visitor Organiser (see below!) Curry Peddlar (before I met Pete I'd never so much as sniffed the fumes from an expelair of the local curry house!)
More about Pete at www.peteshaw.co.uk
One of the organisers of a session at a local pub also ran the Peterborough Big Band and invited me to be resident in the rhythm guitarist's chair. Had to learn lots of funny sounding chords and buy an electric guitar.
The Landlord of the Black Swan suggested we organised a festival at the pub and so the First Farcet Folk Festival was born. Whilst the early stages of the festival were being planned, I fell at work and broke my back and so missed the actual festival. We got plenty of publicity though due to the fact that I was friendly with a member of the staff on the local newspaper.
Pete Shaw did so much to help me that I can't begin to thank him. I don't think a hospital had ever seen so many visitors. The usual quota is two to a bed but when eleven people were hanging round the locker with the beer in I had to ask them to visit other people and make a rota. Mr Shaw organised people to come and visit and made them sign a visitors book when they came. I've still got it somewhere.
The festival was a success (probably because I wasn't there) and we raised lots of dosh for charity.
Did the same the next year although I wasn't prepared to break anything for the publicity. Raised loads more dosh for charity.
The following picture came from the Peterborough Evening Telegraph and shows the procession of the Whittlesea Straw Bear sometime in the late 80's. Yours truly (just to the right of the Bear) is desperately trying to hear myself play the processional tune on the concertina whilst his left ear is deafened by the melodeon player on my right. The sooner someone comes up with a stethoscope type arrangement for hearing what you are playing on one of those things the better!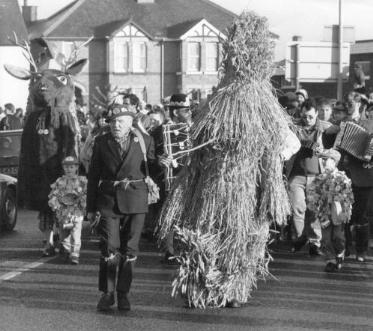 More about the Straw Bear festival here - http://www.strawbear.org.uk/
I gave up the Big Band duties because I couldn't lug my gear about anymore due to my back and also I was finding that by the time I had worked out what the chords were on the first bar, the rest of the band had finished so I decided to retire from the Jazz scene although the experience left me with a better appreciation of a different sort of music and gave me a better understanding of music in general which I was able to incorporate into my guitar playing.
Moved on from Radio and appeared on TV with Tom T. Hall (The Storyteller) – No – I'd never heard of him either.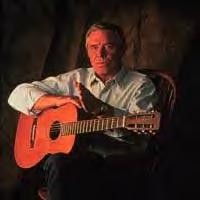 Tom T. Hall (The Storyteller) in pensive mood when told
he's going to meet Mark Dowding and Pete Shaw.
This was part of the Peterborough Country Music Festival (I'll do anything for money and a free lunch) and was being filmed by Walt Adams and the "Wrap Around Nashville" team for broadcasting in America. They wanted some "Good Old British Folk Singers in a Good Old British Beer Joint to play with Tom T. Hall (The Storyteller)". Was invited by Tom T. Hall (The Storyteller) to appear on "The Grand Ole Oprey" next time that we went to Nashville. I have yet to take him up on the offer.
In 1989 I moved up to Doncaster and after six weeks going to the local folk club, an offer of residency was accepted. Got involved with a group called Swiftnick.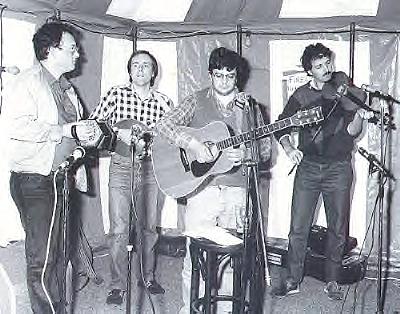 SWIFTNICK at the Three Horse Shoes Folk Festival in Doncaster
A typical press photo showing the group at its best!
From the left:
Myself, Allan Wilkinson, John Crisp, Alan Nicol
Thanks to the power of the internet and wondering what I would find when I put my name in a search engine, I recently got back in touch with Allan after finding his site where I get a mention.
1990 saw me back over in this part of the world in Ormskirk where I met up with Sara Gray, who also lived in Ormskirk and who was involved in "The Cross Hall Project" – a project that involved the pupils from Cross Hall Secondary school in Ormskirk studying the local traditions and meeting local people. This was publicised by an interview and a few songs by Sara and myself recorded by Stan Ambrose for broadcast on BBC Radio Merseyside prior to the concert that was the culmination of the project.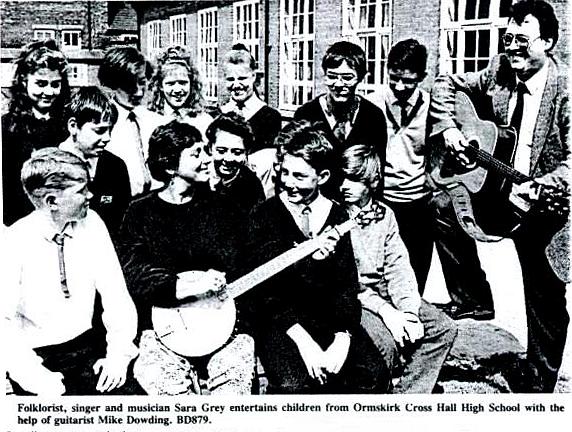 Photograph from the Ormskirk Advertiser Thursday July 5th 1990
( Typical local rag getting my name wrong - Mike Dowding is not my stage name!)
I met up again with Derek Gifford who was running a folk club at the Black Bull in Mawdesley on a once a month basis. Offer of a residency was accepted. Mawdesley moved to Croston and the Grapes Hotel where I took over the Guest booking duties.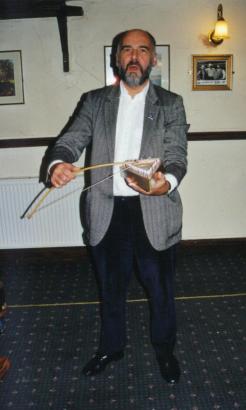 Derek "The Dentist's Friend" Gifford
loosening everybody's fillings with the Bowed Psaltery
In 1993, I made a recording after being badgered err persuaded by a few people and out of this came the cassette version of "Dreams of the Past". Two weeks after it was released, I moved to Sheffield on a weekly basis as part of my job and dropped out of the folk music society. For the first time since 1977 I had nowhere to go to sing as most of the Sheffield clubs were at weekends when I wasn't there and on Sundays, I was going to Rugby League matches at St Helens (I wasn't wasting my season ticket)
Stan Ambrose managed to pin me down long enough to interview me about my cassette – again for BBC Radio Merseyside – and he made an hour long programme out of the songs and the interview.
One person rang after the show was broadcast to buy a copy of the tape but as he wasn't prepared to send any money before he got the tape, he didn't get the tape! I managed to sell most of the tapes – mainly to friends and family - and get my money back over the next 12 months.
In 1996, the Company sent me to America for six months. When I returned, I found that I had lost the enthusiasm for going anywhere for a couple of years and thus did absolutely nothing music-wise during that period other than fiddle around at home on the guitar.
In 1999, I was browsing the diary in the Folk North West magazine which is what the North West Federation of Folk Clubs' Newsletter had transmogrified into (I still had a handle on what was going on) and saw that The Old Dog in Upholland had a theme night of War and Peace. I decided to brush off a few songs on those lines and go along, where I again met up with Derek Gifford, who had given up running clubs and was content to be a resident in his retirement from teaching.
After six weeks of continuous attendance, I found that my name was now appearing on the residents' list for the club in the Folk North West magazine. I met new friends and old friends, I met people I hadn't seen for years and people I hadn't seen at all who had started doing things whilst I was doing nothing.
March 2000. Decided to have my tape re-released as a CD.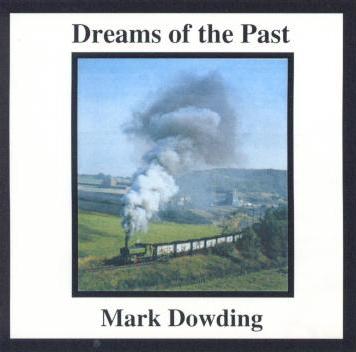 June 2000. Went to my first Folk festival since the one I ran in Peterborough - The Four Fools in Lowton - have been going ever since and in 2002 appeared as a guest for the first time on a main stream festival bill.
January 2001. Was invited to be a resident at the Wooden Horse folk club in Rainford.
June 2001. Took over the webmastership of the Folk North West website.
July 2001. Took over the webmastership of the Four Fools website.
August 2001. Was asked to start and webmaster the Broken Token website (Can you see a pattern emerging here?)
January 2002. Decided to have a go at recording another CD as nine years was a long time since the last one.
August 2002. Actually got round to doing the recording with Chris at Cock Robin Studios.
October 2002. Thought I'd start my own website having practiced on other peoples'.
November 2002. 'Brown Photographs' escapes onto an unsuspecting public. Stan Ambrose once again recorded an interview with me for Folkscene on BBC Radio Merseyside. Tracks from both CDs were played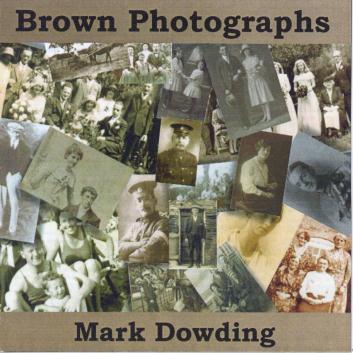 December 2002. Chris Harvey - the producer of the CD asks me for a discography of Harry Boardman for some research he's going to do for the next CD project. Watch this space. Compiling the discography got me thinking about TV and radio broadcasts that Harry had done as well.
Click Here for the results so far.
June 2003. A new folk music programme on BBC GMR started on May 20th. I was asked to go into the studio on June 24th to talk about the Four Fools Folk Festival and Folk North West.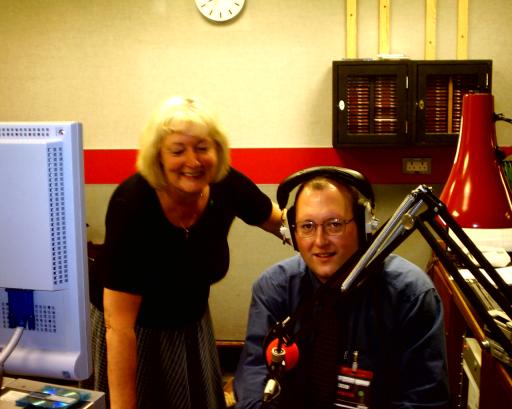 Ali O'Brien and myself in the GMR studio in Manchester on 24th June 2003
July 2003. Started recording a new CD of the songs of Harry Boardman.
This was released in January 2004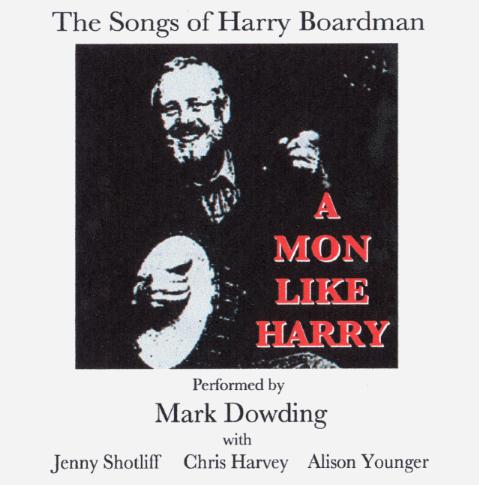 Click HERE for more details
Chris Harvey and myself did a "promotional" tour of local BBC Radio stations in January and February starting with an hour programme with Stan Ambrose on BBC Radio Merseyside's Folkscene on Sunday January 11th 2004. The format of the programme is such that Stan came to interview us the week before and in the studio he cut our talk in between the songs to create the finished broadcast programme.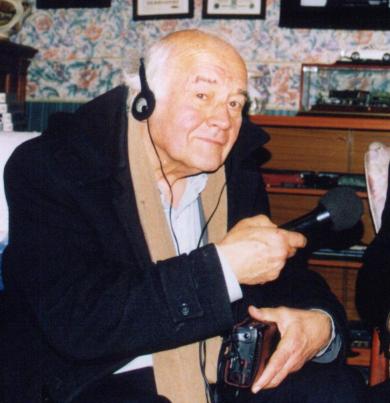 Stan Ambrose
On Monday 11th January we were live in the studio on BBC GMR's Sounds of Folk with Ali O'Brien. We did three spots on this show - a bit of chat followed by a track off the CD.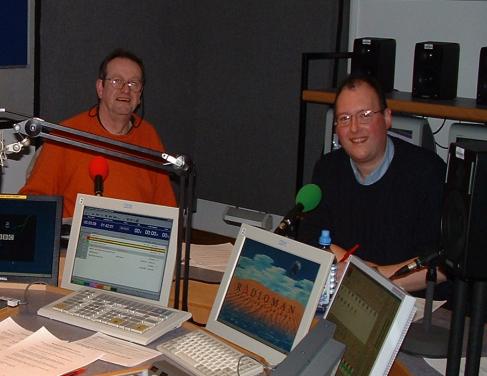 Chris and myself on Sounds of Folk
This was Chris's fourth time and my second time on the show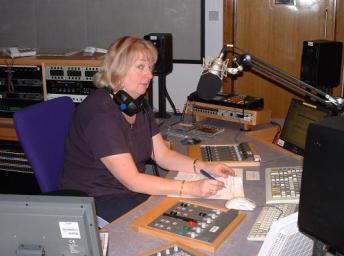 Ali O'Brien
Next up was BBC Radio Lancashire and Lancashire Drift with Les Bond on Thursday 22nd January. Again this was a live show where we had about half an hour to talk and play four tracks from the CD.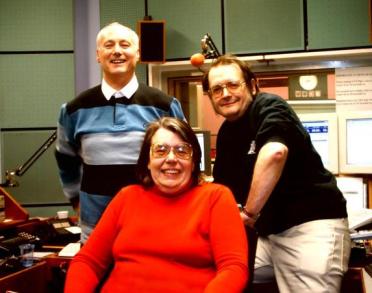 The Lancashire Drift team of Les Bond, Jan and Ken Lardner
Finally on Sunday February 1st we travelled down to Shrewsbury to be on BBC Radio Shropshire's Sunday Folk show with Genevieve Tudor. We had a half hour spot from 8-30 to 9-00 talking about the CD and playing some tracks. I performed live and sang "The Shurat Weavers' Song" by Samuel Laycock.
This programme was also transmitted on BBC Radio Stoke and BBC Radio Hereford & Worcester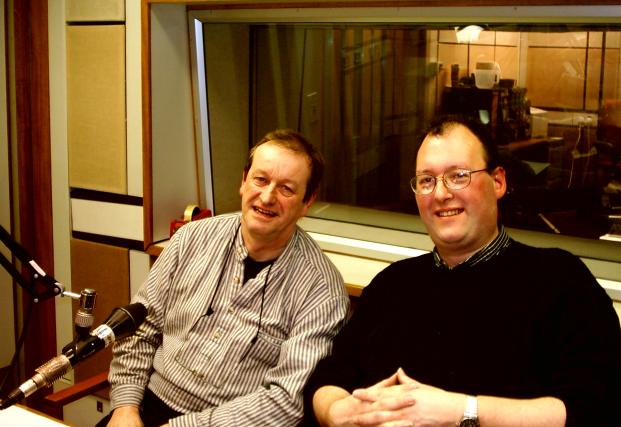 Chris and myself making Genevieve's life a misery on Sunday Folk on BBC Radio Shropshire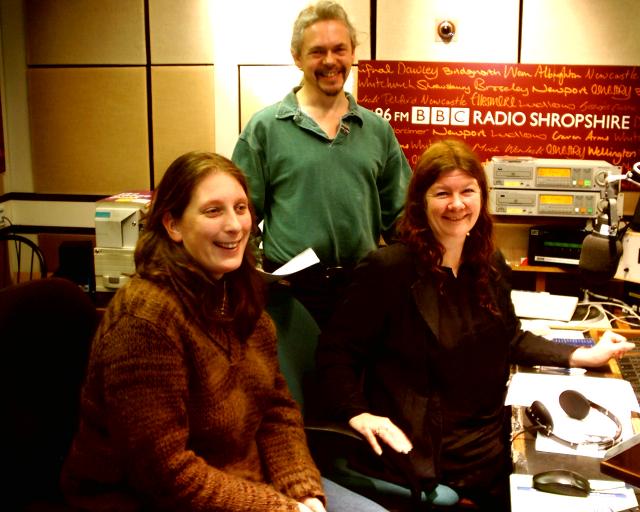 Amy, Allan and Genevieve
The latest project is the recording of "Manchester Ballads" - A set of 35 ballads pertaining to Manchester that were selected and edited by Harry Boardman and Roy Palmer in 1983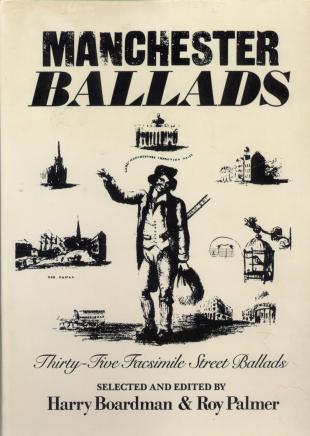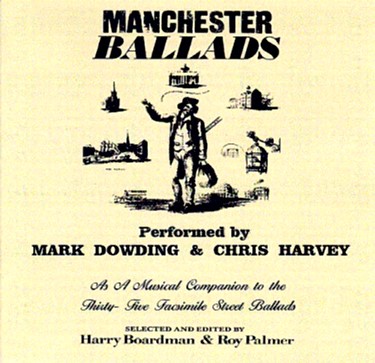 Click HERE for more details
In March 2006 I produced a follow up CD to "Brown Photographs" called "Travelling Tales".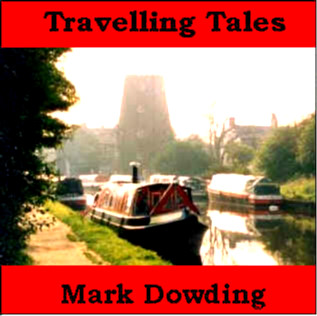 Click HERE for more details
Over the years I've appeared as a guest on various local radio shows including:
The Chorley FM Folk Show presented by Jamie Blatchley.
On a couple of occasions I've produced a couple of shows for Jamie when he has been unavailable to be in the studio himself.
Oldham Community Radio - Sounds of Folk presented by Ali O'Brien
I usually take Maggi with me who makes a cake for us all in the studio.
No wonder we keep getting asked back!
In 2014 I was approached to appear on TV on a couple of programmes in connection with the Manchester Ballads.
The first programme was called "Britain's Most Extreme Weather" presented by Alex Beresford.
One of the subjects was Flooding and the Manchester Ballad - "The Great Flood" about a flood in Philips Park Cemetery that uprooted coffins and bodies!
The second programme was "The Real Mill with Tony Robinson"
Again I was approached about a song regarding the Chartists' meeting on Kersal Moor in North Manchester and asked if I'd like to be interviewed by Tony Robinson.
My bit of the programme was filmed at the Church Inn, Mobberley
Radio 4 produced a couple of programmes that used a few seconds of a couple of the Manchester Ballads to illustrate the subjects including "The Great Exhibition of 1857" and "Manchester's An Altered Town"
In 2017 I recorded my latest CD "The Well-Worn Path"