Mark's Music Pages
My main musical interest is Folk Music
CLICK HERE FOR DETAILS OF MY LATEST CD "THE WELL-WORN PATH"
CLICK HERE FOR DETAILS OF "SIGNAL MINDED" by Paul Mackenzie
CLICK HERE FOR DETAILS OF HARRY BOARDMAN's FINAL RECORDING
Click HERE to see my Folk CV
Click HERE to see my Gig List
Click HERE for details of "Lancashire Garland" projects
Click HERE for details of the Room at the Top Folk Club
I have released six CDs - click on a cover for details of the first four...
There are three brief low-res MP3 clips - Click the title to play
Following Olga to Lynn - from Brown Photographs
Peterloo - from Travelling Tales
Moses of the Mail - from The Old Potts Railway
(Click HERE to see other recordings that I have been involved with)
...and here are details of the sixth...
THE WELL-WORN PATH
Cock Robin Music CRM 242
2017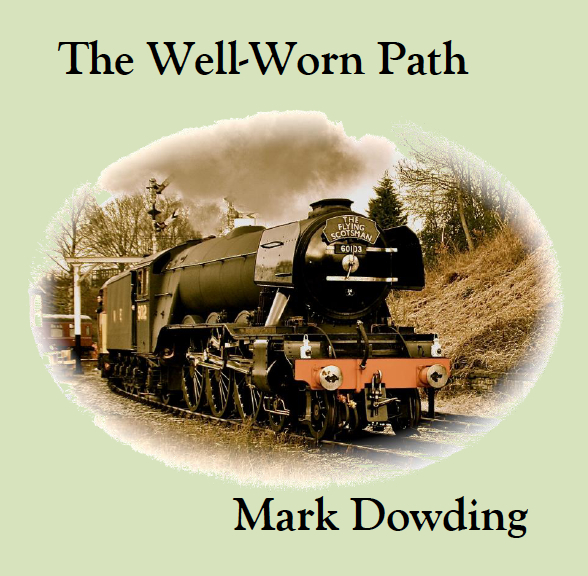 Track List and Notes:
| | |
| --- | --- |
| 1 The Cotton Lords of Preston | A song from the time of the Preston lockouts in the 1850s |
| 2 Bowton's Yard | This version of Samuel Laycock's classic poem is based on a version sung by Violet Carson - better known to older fans of Coronation Street as Ena Sharples. She used to sing this song to child actors on the BBC radio programme "Children's Hour" to keep them quiet when they weren't being used on a broadcast. |
| 3 The Castleford Ladies' Magical Circle | A classic Jake Thackray song |
| 4 The Horses of Mayday | Written by Harry Basnett about his Grandfather's time of Mayday parades in Manchester and their recruitment for the war effort in 1914-18 |
| 5 Category D | A song by Peter Bond which tells how villages and towns associated with areas of Iron mining would be destroyed under a "D" notice once the mine had been worked out. |
| 6 John Willie's Ferret | A supposedly true account of what happened at a civic function or a "do" as we say up here. Written by Larry and Gerry Kearns |
| 7 Dirty Old Town | This song was written by Ewan MacColl who needed something to cover a scene change during his 1949 play "Landscape with Chimneys" |
| 8 Paradise | John Prine's song which tells of the destruction of the town of Paradise due to the Peabody Coal Company strip mining the area. The town was actually destroyed when the local electricity generating plant covered the place in hazardous dust and the local authority demolished the town due to health concerns. |
| 9 Last Train | Stanley Accrington once worked as Station Manager at Rochdale. He wrote this song after listening to the stories of the steam age from his older work colleagues who remembered the times and its passing |
| 10 Manchester Rambler | Another song by Ewan MacColl written just after the 1932 trespass on Kinder Scout |
| 11 A Mon Like Thee | Written by Edmund Hill of St Helens. The original manuscripts of this and other songs that he wrote have come to light in the possession of his grandson. |
| 12 Fathom the Bowl | A great song to get a room full of folk singers going! |
| 13 Whitby Whaler | William Scoresby of Whitby was one of the great Whaling Captains. This song by Richard Grainger tells how the whaling industry ran in the days of the tall ships. Songs of this nature should be viewed as a historical documentation rather than a celebration of the fact that several generations of people nearly wiped out a species. |
| 14 A Piecer's Tale | The MP Michael Thomas Sadler was trying to get a bill - The Ten Hours Act - through Parliament that would reduce the working hours of children and women from 18 a day typically down to 10. This song portrays a young girl who works in a mill, talking to the Mill owner about working conditions. |
| 15 Normandy Orchards | Keith Marsden's song about the preparation for D-Day in 1944. The song is sung through the eyes of a teenage girl. |
| 16 Handloom Weaver's Lament | A song that appears in John Harland's Ballads and Songs of Lancashire. |
| 17 Owl of Oldham | Another song from the pen of Larry Kearns. Although written about the changing face of Oldham, the sentiment could apply to any town that has undergone "modernisation" |
| 18 Signora | This song was my introduction to The Oldham Tinkers in a TV programme called "Thank You and Goodnight" broadcast in the Granada TV area in North West England. The song was written in 1920 by Merson, O'Connor and Ross and performed by Billy Merson. |
| 19 Gone Now | Paul Mackenzie was a Relief Signalman in the West Lancashire/Wigan area of the rail network and has written a number of songs about the railway. This is one of them. |
| 20 Along the Rossendale | Mike Jones of Preston wrote this song in 1968 and has been sung around the folk clubs ever since. A few years ago, Chris Harvey and I was involved in a concert to support Ramsbottom Civic Hall which documented the rise and fall of the cotton industry. Chris inverted to tune to be more melancholy than the original and this is the version used here |
| 21 Brother, Can You Spare A Dime? | A song from 1930 by Yip Harburg and Jay Gorney. Made famous by Bing Crosby and Rudy Vallee amongst others. |
This is available from the address below for £11 (inclusive of postage)*
*UK only - Overseas enquiries please email me for postage details
Cheques payable to "Mark Dowding"
TRAVELLING TALES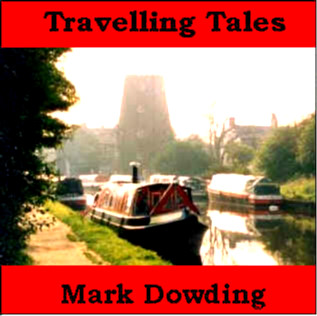 Track list:
1 The Bolinder Boatman
8 Maginot Waltz
15 Whoam Brewed
2 St Aubin-sur Mer
9 At Rawtenstall Fair
16 July Wakes
3 The Bard's Reformation
10 Ais Gill
17 Cob-o-Coaling
4 No Use For Him
11 With Her Head Tucked Underneath Her Arm
18 Margarita
5 Sister Josephine
12 Peterloo
19 On Again, On Again

6 The Brothers Malone

/Ashton Mashers

13 Lloyd George
20 The Lancashire Liar
7 The Curse of Croyland
14 Tommy Note
21 Farewell to the Gold
22 The Spaniard That Blighted My Life
Details of some of the songs are as follows:
"The Bolinder Boatman" is the original version of the song written by Ian Woods about canal boatman Charlie Atkins
"St Aubin Sur Mer" was written by Keith Marsden about the D-Day Landings in June 1944
"The Bard's Reformation" is by Radical Samuel Bamford who was arrested at the meeting at St Peter's Fields in1819 - the details of which are in the song "Peterloo" by Harvey Kershaw
"At Rawtenstall Fair" is based on the 1932 recording by Randolph Sutton and is known these days as "The Rawtenstall Annual Fair" The song as well as "With Her Head Tucked Underneath Her Arm" was written by R.P. Weston and Bert Lee.
"Sister Josephine" and "On Again, On Again" are two songs by Jake Thackray that I get requested to sing on a regular basis.
"The Curse of Croyland" tells of the sacking of Croyland Abbey near Peterborough in 870 AD and was written by Paul Eady who also wrote "Following Olga To Lynn" that is on "Brown Photographs"
" The Spaniard That Blighted My Life" is by Billy Merson and was written a year after a song he wrote called "If I Catch Alfonso Tonight" which featured his stage girlfriend. Merson sang the latter song solo.
"Travelling Tales" was featured on BBC GMR Sounds of Folk on Monday February 27th 2006
All FM 98.9FM "Cultural Collage" with Geli on Sunday March 12th 2006
The Drift on BBC Radio Lancashire with Phil Brown on Thursday April 27th 2006
Folkscene on BBC Radio Merseyside in November 2006
as heard on
BBC GMR - Sounds of Folk with Ali O'Brien
BBC Radio Shropshire - Sunday Folk with Genevieve Tudor
BBC Radio Lancashire - The Drift with Phil Brown
BBC Radio Merseyside - Folkscene with Stan Ambrose
BBC Radio4 - "Manchester, Mills and Masterpieces"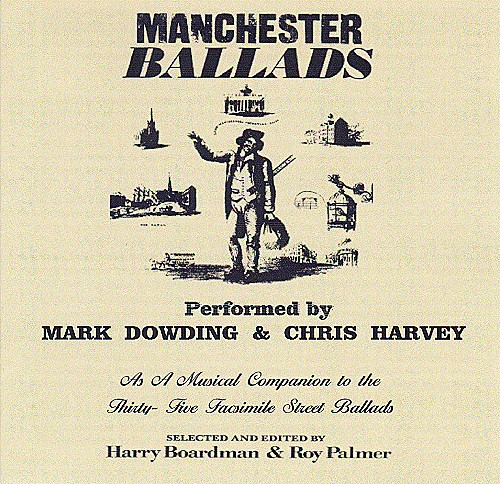 Cock Robin Music CRM 143/144
Track List with approximate dates of each ballad
1. The Soldierís Farewell To Manchester
2. Mr Sadlerís Balloon (1785)
3. An End Of The Forestallerís Roguery (1802?)
4. Ryleyís Ramble (pre-1815)
5. Jone oí Grinfilt(1815)
6. The Meeting At Peterloo (1819)
7. New Bayley Treadmill (1824)
8. A New Song Called The Way To Strike Home (1829-31)
9. Manchesterís Improving Daily (1830)
10. Johnny Greenís Trip Froí Owdham To See The Manchester Railway (1832)
11. Country Chapís Adventures Down A Coal Pit (1833-35?)
12. Tinkerís Gardens (1837-39)
13. A New Song On The Great Demonstration, which is to made on Kersal Moor (1838)
14. Manchesterís An Altered Town (1839)
15. Manchester At Twelve Oí Clock (1838-45)
16. A Humourous And Interesting Dialogue (1840-45)
17. A New Song, Or A Visit To Knott Mill Fair (1843-46)
18. The Spinnerís Lamentation (1846?)
19. Seaport Town of Manchester (1847-49?)
20. Millgate in 1853
21. The Returned Convict; or the horrors of transportation (1856-61)
22. Oldham Workshops (1857)
23. The Manchester Exhibition (1857)
24. Rag Bag (1861)
25. The Telegraph Girls in Cannon Street (1861-72)
26. The Sewing Machine (1861-72)
27. Victoria Bridge On a Saturday Night (1861-72)
28. The Spinnersí Lamentation (1863)
29. Our Factory School (1863)
30. The Calico Printerís Clerk (1863)
31. Execution of Allen, Gould, & Larkin (1867)
32. The Great Flood (1872)
33. A New Song On The Cartersí and Railway Servantsí Strike (1872)
34. The Hero Of Belle Vue Gaol (1873)
35. New Song on the proposed Ship Canal (1882-85?)
This is a musical companion to the 35 facsimile street ballads selected and edited by Harry Boardman and Roy Palmer and published by Manchester Education Committee in 1983.
Some of the songs will be familiar to listeners but many have never been heard before and we include the original music hall tunes to "Calico Printer's Clerk" and "The Telegraph Girls of Cannon Street" as well as the tune "Artichokes and Cauliflowers" which is noted on the broadside of 29 - "Our Factory School" but was not found for the publication.
I sing the ballads and play guitar, banjo, English concertina, Anglo concertina and mandolin.
Chris Harvey plays the keyboards and makes all the other sounds on the CD
and also sings on track 8
Alison Younger plays the part of "Old Lady Rhubarb" on track 8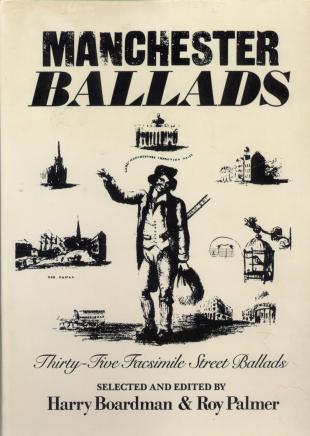 This book is now unavailable but drop me a line and I can send you a PDF scan of the documents
"As a former resident of Manchester who spent six years at its university, I am delighted to welcome the CD, and I have no doubt that Harry Boardman would have been of the same mind. " - ROY PALMER 2005
"As a born and bred Mancunian, I have waited a long time to hear a set of ballads, which do justice to the city and its heritage. I think Mark and Chris have achieved this." - FOLK NORTH WEST AUTUMN 2005 REVIEW
"I think this collection will appeal to most lovers of folk songs but, for those of us that like to delve a little deeper into the history, meaning and continuing relevance of these songs, it is absolutely essential." - SHREDS AND PATCHES ISSUE 35 REVIEW
The 35 ballads in the collection run to 133 minutes playing time and the double CD is available for £11 including postage and packing.
Please make cheques payable to "Mark Dowding"
*Overseas enquiries - please email me for details of postage costs and payment through Paypal
Snail Mail address for all CDs:
Mark Dowding
28 New Acres
Newburgh
Nr Wigan
Lancashire
WN8 7TU
*****
The Songs of Harry Boardman
Cock Robin Music CRM 097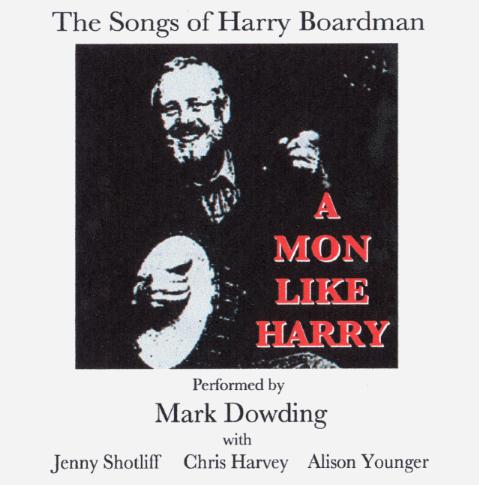 Track List
| | |
| --- | --- |
| 1 The Handloom Weavers' Lament | 10 A Weaver's Song |
| 2 I Means To Get Jolly Well Drunk | 11 Manchester Canal |
| 3 The Weaver of Wellbrook | 12 Hard Times |
| 4 Merry Little Doffer | 13 Frolicsome Kate |
| 5 Bury New Loom | 14 Bowton's Yard |
| 6 The Miners' Lockout | 15 Billy Suet's Song |
| 7 Handloom v Powerloom | 16 Gettin' Wed |
| 8 Tunes: T'owd Wife of Coverdill; Lass of Dallogill; My Love My Love | 17 Shurat Weaver's Song |
| 9 Welcome Bonny Brid | 18 With Henry Hunt We'll Go |
This project is a CD of the songs made popular by Harry Boardman in the sixties and seventies.
I am singing the songs and playing banjo, anglo concertina and mandolin
Jenny Shotliff is playing fiddle
Chris is playing accordion and puts a vocal on "With Henry Hunt We'll Go"
Alison Younger is adding backing vocals on "With Henry Hunt We'll Go".
"The whole CD is a delight and I would recommend it to anyone who wants to hear the best of North-West singing and musicianship." - Mary Humphreys
"Mark Dowding chooses to sing the songs in an unpretentious way, ..... The result is uncannily evocative of Harry Boardman, without any sign of imitation or parody. I really like this album, as I used to admire Harry himself, for his steadfast integrity and love of his material. ..... an album that stands up as an entertaining piece of work in it's own right, and a fine tribute to a much admired, much missed, man. Unlike those prophets in the old saying, Harry Boardman had much honour in his own country."
ROY HARRIS - LIVING TRADITION REVIEW
Please contact me for availability of this CD
Please make cheques payable to "Mark Dowding" for this one
UK enquiries - Price is £11 (inclusive of postage)*
*(Overseas enquiries please email for postage and paypal details)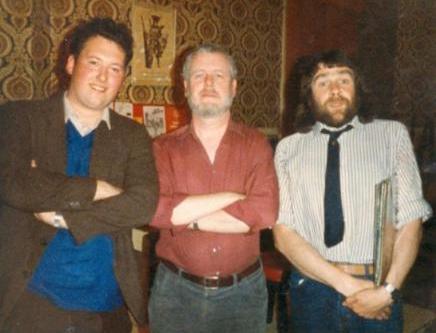 We are three jolly boys all in a row!
All very young looking in 1982
Myself, Harry and Clive Pownceby after a gig that Harry did at the Bothy folk club at the Blundell Arms in Southport
Thanks to Lesley Boardman for the loan of the photograph which, according to Clive, was taken on 31st October 1982
Harry Boardman
1930 - 1987
The Late, Great, Harry Boardman - His research into the folk songs of the industrial North West encouraged Lancashire folk singers of the sixties and seventies to look at the history of their own county and launched the folk music careers of people like The Oldham Tinkers, Mike Harding, Bernard Wrigley and Gary and Vera Aspey.
In the eighties, people like Brian Peters and myself started to introduce some of Harry's songs into our repertoires and introduce the songs to a new audience.
It is a sad fact that after Harry died in 1987, people who were coming into folk music for the first time were not aware of Harry's legacy and one of the reasons for making this CD is to put Lancashire back onto the folk music map.
More information about Harry Boardman can be found on the Folk North West website. Click HERE to go there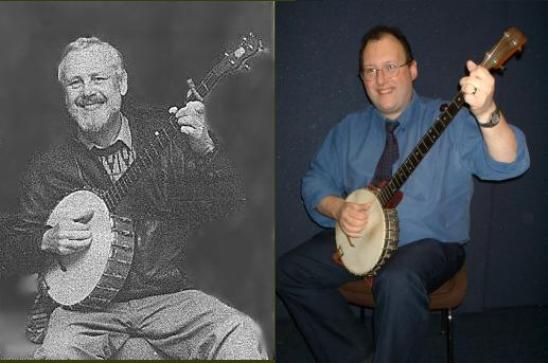 Both Harry and myself striking similar poses.
The banjo that I'm playing is a Windsor 'Popular' model No 2 which belonged to Harry.
I bought it off him when he bought the banjo he is playing in the photograph.
*****
Cock Robin Music CRM 063
This CD was released in 2002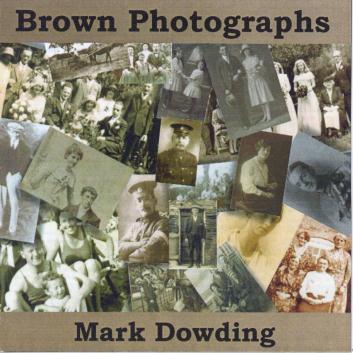 Track List

1 Brown Photographs

10 Tunes - Tom Bigsby's Waltz/Margaret's Waltz
2 The Old Clog Dancer
11 Come Whoam To Thi Childer And Me
3 The Maid In The Calico Dress
12 Jimmy Spoons
4 Tunes - Pleasures Of The Town/Tip Tap Polka
13 Following Olga To Lynn
5 A Servant Of The Company
14 Generations Of Change
6 Dancing At Whitsun
15 Sally Wheatley
7 The Heights Of Alma

16 Tunes - Trip To Knaresborough/3 Jolly Sea Captains
8 The Little Pot Stove
17 Spanish Ladies/Last Man Leaving
9 Man Of The Earth
18Christmas 1914
I play Guitar, Banjo, English Concertina and Anglo Concertina and also accompany myself with extra vocals
Alison Younger again adds some wonderful backing vocals
Angie Bladen plays three sets of tunes on English Concertina with me adding backing vamps on Anglo Concertina
The photos on the front are all from my family album. For more information about them please visit the Family Tree page
*****
Cock Robin Music CRM 016
This was released in 1993 as a cassette and later in 2000 as a CD
***Buy any other CD and get this one for £5***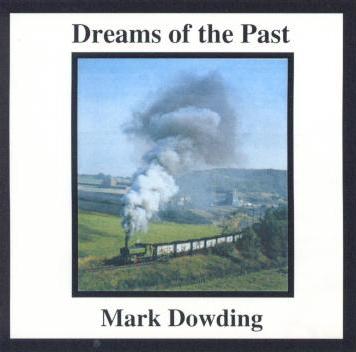 Track List

1 The Big Hewer
9 Requiem
2 My Old Man
10 Schooldays End Medley:
3 A Nightingale Sang in Berkeley Square
(Schooldays Over)
4 The Last Days of Steam
(The Little Piecer)

5 Birthday Cake City

(First Day At T' Mill)

6 King Cotton
11 Smiling David
7 The Cock Fight
12 The Calico Printers Clerk
8 Joseph Cross
I play Guitar and Banjo
Alison Younger adds backing vocals on three tracks - The Cock Fight, Joseph Cross, and The Calico Printer's Clerk
*****
The above two CDs are available from me at £10 each
(inclusive of postage)*
Please make cheques payable to "Mark Dowding"
See above for address
*(Overseas enquiries please email for postage and paypal details)
All six CDs were recorded and produced by Chris Harvey of Cock Robin Music
"Manchester Ballads" & "A Mon Like Harry" are joint productions between Chris and myself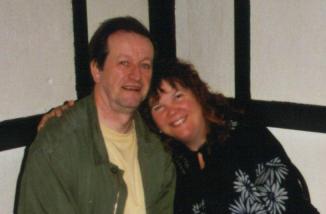 Chris Harvey & Alison Younger
Other recordings that I have been involved in are: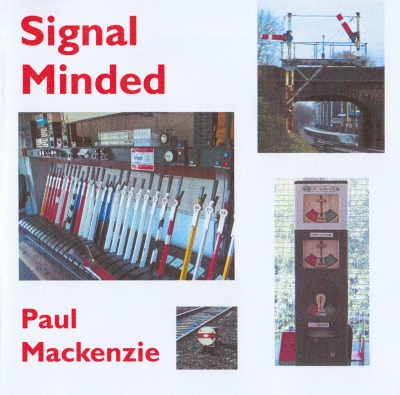 2012 - Cock Robin Music CRM 230
Paul Mackenzie with Chris Harvey & Mark Dowding
This is a CD of the songs of Paul Mackenzie who at one time worked for
British Rail, Railtrack and Network Rail as a signalman.
Paul sings the songs, Chris arranged the backings and plays keyboards, I play guitar and banjo
and contribute backing vocals.
£11 including p+p (Cheque payable to "Mark Dowding" please or email me for Paypal details)
Each track includes a spoken introduction by Paul.
email Mark for more details
Paul Mackenzie was a signalman in the West Lancs area and wrote songs (still does write them!) about his time working and things that were going on at the time. I've known Paul for a few years and suggested that his songs were recorded for posterity. Chris Pollington and I produced the backing tracks and we got Paul in to record the vocals with a few vocal backing tracks by me. Paul has recorded a few sentences about each track which is played before the track.

1.Black Five
Black Fives were the workhorse of the West Coast, built by Stanier. This song mentions a few people on the Liverpool-Glasgow line.
2. Pilot Trains
These were the shunting engines that used to work around the Aintree, Ormskirk, Rufford area.

3. Altcar Bob
A train that ran from Southport to Altcar and Hillhouse.

4. On the Aintree Pilot
Another song about the shunting trains this time specifically on the Aintree grid.

5. Signal Box so High
A song of Paul's experiences in the box.

6. 25 AIV
25 A IV was a rule concerning working when your block instruments aren't working and you have to send trains through on time interval working. Whilst the story isn't exactly true it's not far off the truth.

7. Gone Now
A great song about the passing of stations and people from the old days.

8. Diesel Railcar
"All that is left is a diesel railcar" - says it all really!

9 Lion on the Wheel
The ending of an era when British Rail became Railtrack

10. Memories
Memories of what used to be.

11. Rhythm of the rail.
The classic rhythm of diddle - de- dum of bogies passing over rail joints evokes memories.
12 Big Box
Preserved signal boxes tend to be the small ones with half a dozen levers. They don't save the big boxes 'with a hundred levers or more'. The track ends with an authentic 7-5-5 block bell - the closing of a box.
Paul also narrated a programme called "The Lost Days of Steam"
which you can listen to here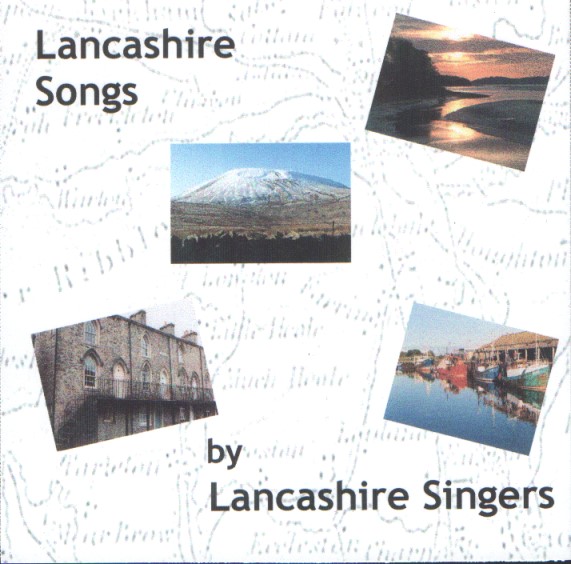 Lancashire Voices - Volume 4
Cock Robin Music CRM 165
Quartz, Chris Harvey, Sid Calderbank, Mark Dowding
Th'Antique Roadshow, Malcolm Gibbons, Alan Seymour, Pat Ryan & Ken Howard
SOLD OUT
A CD of Lancashire songs researched by Derek Gifford and Chris Harvey and arranged and performed by artists born and bred in Lancashire.
I'm singing "Our Factory School" taken from "Manchester Ballads" and "The Dashing Steam Loom Weaver" sung to my own tune.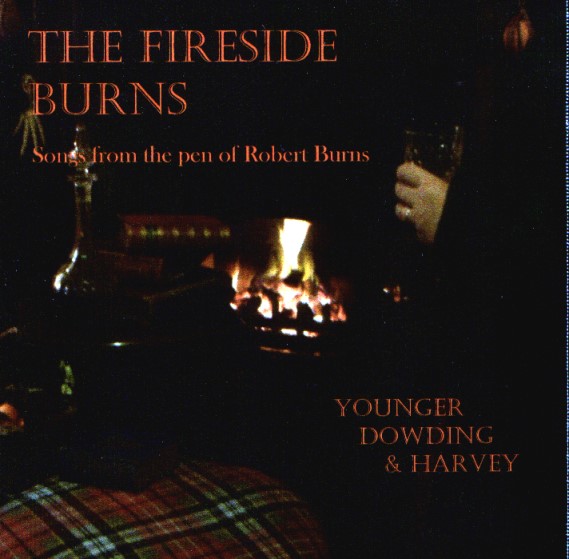 The Fireside Burns
Alison Younger, Mark Dowding & Chris Harvey
Cock Robin Music CRM 168
SOLD OUT
Following a number of years performing Burns Night concerts, Alison decided it was time to record the songs for posterity.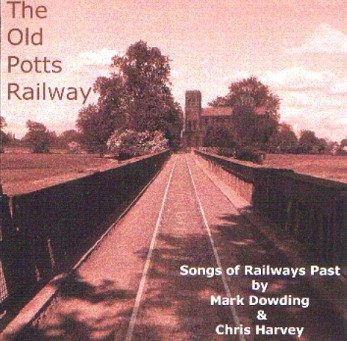 The Old Potts Railway
Cock Robin Music CRM 160
Please click HERE for more details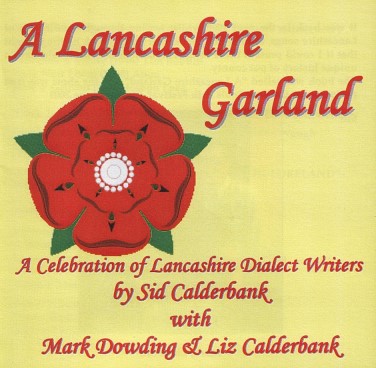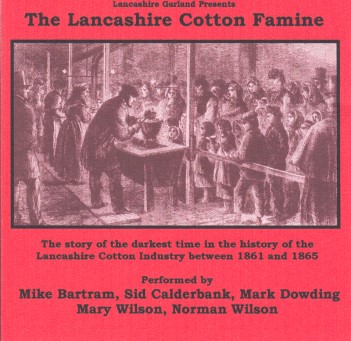 A Lancashire Garland
and
The Lancashire Cotton Famine
Please click HERE for more details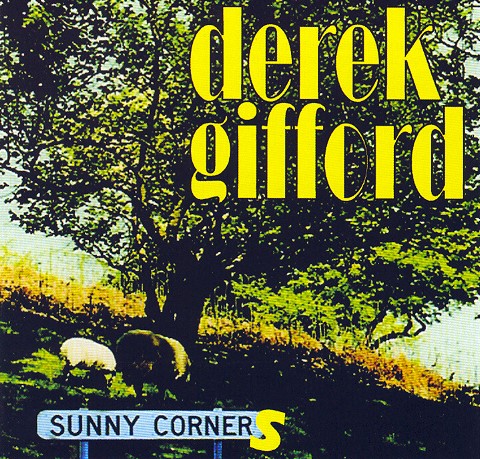 Sunny Corners by Derek Gifford
Cock Robin Music CRM 138
After knowing Derek for the best part of 30 years, he finally asked me to join in the choruses on this CD!
I play and sing on his latest CD below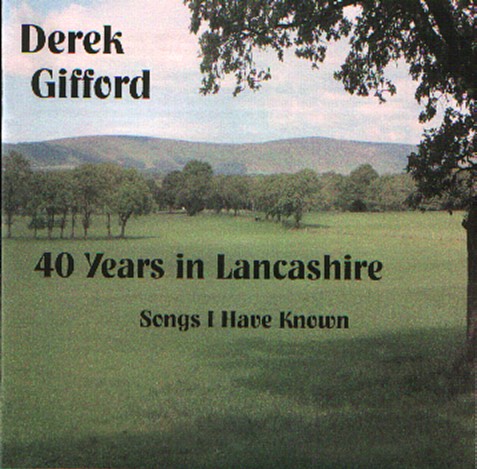 40 Years in Lancashire by Derek Gifford
Cock Robin Music CRM 213
Email DEREK for more details of these CDs.
Checkout Derek on his website www.derekgifford.co.uk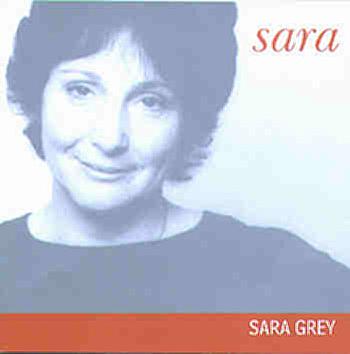 sara by Sara Grey
Harbourtown Records - HARCD028
The three tracks that I participate in are:
My God He Is A Rock
The Milliner's Daughter
Across The Bridge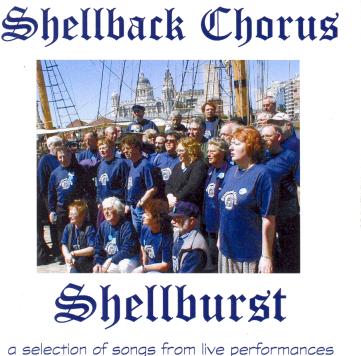 Shellburst - Shellback Chorus
Fleetwood Folk - FFC018
You can hear me singing Windy Old Weather on this one