Charles married Dinah Williams on 29th October 1854 in Holy Trinity of St Philips Church, Bristol.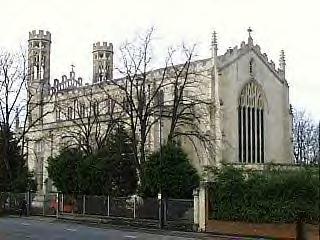 Holy Trinity - St Philips, Bristol
They had five children:
John Dowding b c1856 d 13th May 1940 age 84
George Edward Dowding b c1861 d 14th Feb 1945 age 85
(Click HERE for more information about George's family)
Mary Ann Dowding b c1861
Albert Edwin Dowding b 23rd Aug 1863 in Portway, Warminster, Wiltshire
d 28th Oct 1921 age 58
(Click HERE for more information about Albert's family)
Thomas William Dowding b 14th July 1865 in Stoke Gifford, Gloucestershire.
d 15th December 1947, Strowlands, East Brent, Somerset
Further information about the family:
John - no information found yet.
George was a 'working coal dealer' and lived at 4 Redfield Road, Lower Patchway(1901 census)
George married Susan Ann b c1857 d 20th March 1928 age 71
They had 5 children:
Frederick George Dowding b c1884
Frederick was 'labourer in coal wharf' (1901 census)
Susan Emma Dowding b c1886
Edith May Dowding b c1890 d 1st Dec 1931 age 41
Dorothy Violet Dowding b c1893
Daisy Eveline Dowding b c1896
Mary Ann Dowding - no information found yet
Albert married Comfort Elizabeth Thompson b 1868 d 24th March 1958 age 90
They had 3 children:
Beatrice Lavinia b c 1891
Priscilla Diana b c Feb 1892 d 12th April 1894 age 14 months
Albert Edward b 1893 d 22nd March 1919 age 26 - Accidentally killed in a motorcycle accident
The family are buried at St Mary's Churchyard, Almondsbury, Gloucestershire apart from the son Albert Edward who is interred at Weston-Super-Mare cemetery.
Both Albert and Thomas were baptised on 20th August 1865 at Stoke Gifford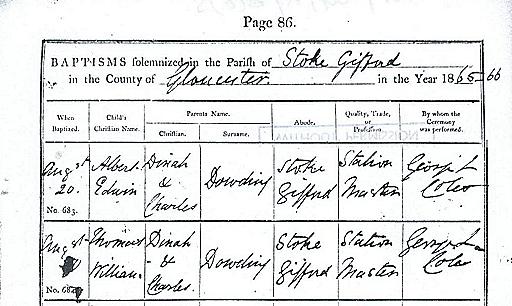 An extract from the baptism register of Stoke Gifford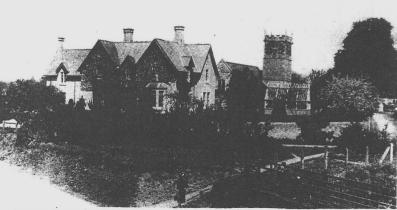 Stoke Gifford Vicarage and Church - 1906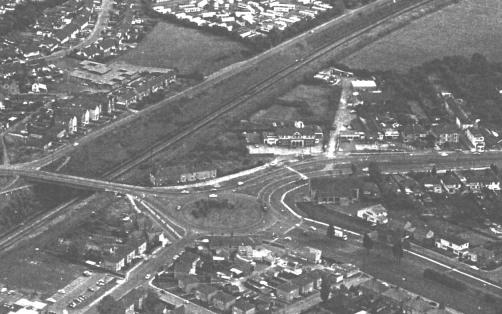 Aerial Photograph of Patchway Roundabout - 1974.
The New Railway Inn can be clearly seen just north of the roundabout.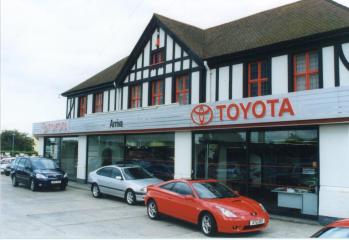 In September 2000, The New Railway Inn served as a car dealership but the top of the building is still recognisable. There are plans to demolish this building in the near future.