Mark's Family Tree Pages
The Dowding Family
When I was at school, one of the history teachers asked me my name and I replied 'Dowding sir' to which he answered 'Dowding eh? - Air Chief Marshal, Battle of Britain?!' As I had no idea what he was talking about I mumbled some incomprehensible reply and gave a little laugh but went and asked my dad (when I got home - he wasn't at school with me) who this obviously famous man was. I was told that he was my Great Grandfather's cousin. I believed this to be the case for many years until someone else thrust a book under my nose and pointed to the name of Sir Hugh Dowding and I was asked again if this man bore any relationship to me. I told him the information that I had stored in the old memory box about Uncle 'Stuffy' but I got to thinking if it would be possible to find out exactly what the relationship was between this great leader of men and my humble self.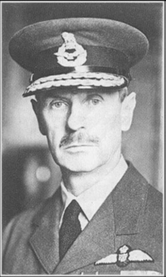 Sir Hugh Caswall Tremenheere Dowding
To cut a long story short, I found the line of Lord Dowding from various sources including the internet and birth certificates, and I also found my line back to my Gt Gt Grandfather called Charles Dowding. Lord Dowding had an Uncle called Charles Henry Dowding. Was my Gt Gt grandfather and Charles Henry Dowding the same person? Sadly this was not the case. I found that Charles Henry Dowding was a naval chaplain whilst my Gt Gt Grandfather Charles Dowding was a Railway Station master at Warminster in Wiltshire. Charles Henry Dowding had been reported missing at sea and it transpired that a scuttle in his cabin at the aft of the ship had been opened and as he could not be found, it is assumed that he either fell or jumped overboard through the scuttle hole. Either way he would have gone into the propellers of the ship and been killed instantly. Further research of both families have failed to find a link between us (so far!).
More information about Sir Hugh Dowding and the Battle of Britain can be found at the following site:
http://www.raf.mod.uk/bob1940/commanders.html
The statue of Lord Dowding outside St Clement Danes Church on the Strand, London

Thanks to cousin Dave for the photographs

Two photographs of the memorial to Lord Dowding in Moffat

The former home of Lord Dowding - St Ninians school in Moffat - now extended and used as a benevolent home for ex-RAF personnel

St Ninian's college, Moffat.

A boys preparatory school run by Lord Dowding's father, Arthur Dowding
Right then - Who am I and Who do I come from?
This is me - Mark Jonathan Dowding - the scruffy one of the bunch!

Born 16th January 1961

On the left is my dad

John Dowding

Born 12th February 1935

On the right is my mum - Audrey Brown

Born 25th March (a while ago now!)

They were married

on 12th March 1960

at Christ Church,

Douglas-in-Parbold

by Rev Charles Barnes

They have 2 children

myself and my sister, Deborah

Deborah Jane Dowding

born 2nd Jan 1962

****************************************************************

This is my Grandfather on the left

Ernest Walter Dowding

Born 24th February 1904

Died 7th January 1984

And my Grandmother on the right

Born 17th March 1906

Died 18th February 1987

Ernest and Marjorie were married on 26th June 1930

in the Parish Church, Knowle, Bristol

by the vicar - Canon G.W.L. Wynne

The Church of the Holy Nativity

Wells Road, Knowle, Bristol

I contacted Phil Goodfellow, the church warden, who sent me the photographs and told me the following about the church:

"Following bomb damage in November 1940, the tower is all that remains of the original building.

Holy Nativity is a very "High" church in the Catholic Tradition. We are Church of England but have very traditional liturgy. That's why we call the priests and deacons Father. In the 1930's under Canon Wynne things were very strict indeed"

Phil has also sent me the following pictures of the church as it looked at the time of Ernest and Marjorie's wedding in 1930

These two pictures date from around 1922

Ernest and Marjorie had four children

Patricia Mary Dowding

Patricia Mary Dowding

Born 6th May 1931

Died 5th August 2003

Married Harold Bold

11th August 1951

Children:

David Bold - born 26th November 1953

Ian Bold - born 26th November 1954

Alison Bold - born 24th August 1956

John Dowding

John Dowding

Born 12th February 1935

Married Audrey Brown

12th March 1960

Children:

Mark Jonathan Dowding - born 16th January 1961

Deborah Jane Dowding - born 2nd January 1962

Ann Dowding

Ann Dowding

Born 11th August 1944

Married William Shacklady

date unknown

Children:

Karl Shacklady - born 12th April 1964

Scot Shacklady - born 25th February 1969, died 8th December 2000

Judy Dowding

Judy Dowding

Born 11th August 1944

Died 22nd August 1998

From 1941 until 1968,Ernest and Marjorie and various members of the family lived at Finch House in Appley Bridge in Lancashire

Finch House, Off Mill Lane, Appley Bridge, Lancashire

In 1968, Finch House was demolished for a new housing estate. I am led to believe that this building was listed but somehow vital papers went missing. I can't say how true that was though!
To see more members of the Dowding family, click HERE
More Photographs can be seen HERE
There are three other lines of the family to have a look at: